TEREX AC200 "SCHOLPP" mobile crane
Manufacturer: NZG
Scale: 1:50
Here is the incredible AC200 in "SCHOLPP" livery by NZG. You can get
an idea of the cranes size with that man walking beside it there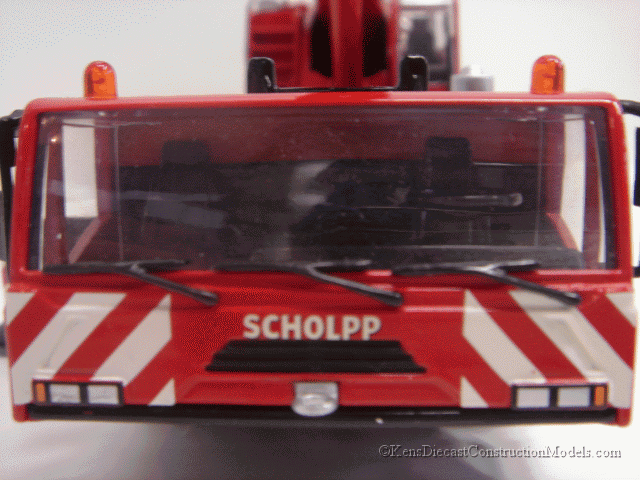 Here's a front end view inside the cab to show off details like dual
bucket seats and a large steering wheel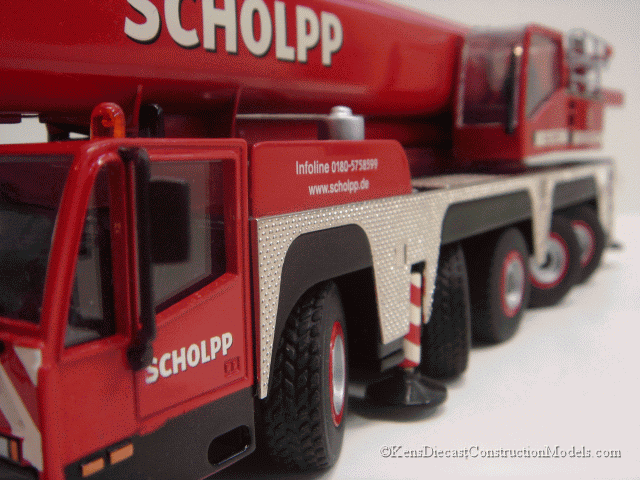 The models front two, as well as rear two axles turn
Drivers side view painted beautifully in SCHOLPP colors
Front view with warning stripes, headlights, mirriors, overhead beacons
View of the right side with jib folded back
Rear view with warning stripes, diamond plate tool boxes, and waring beacon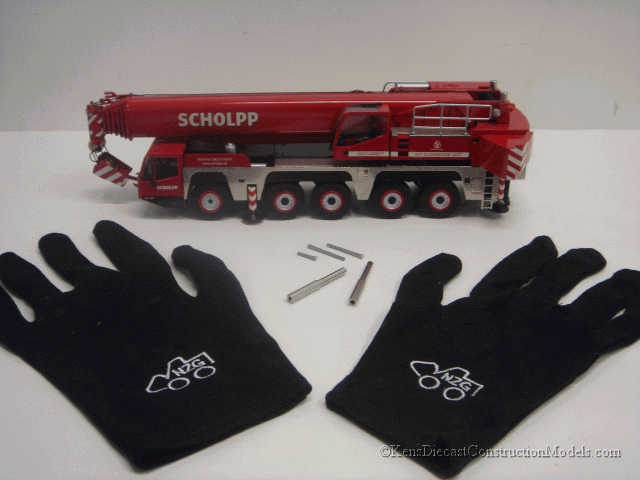 You even get a nice set of soft NZG gloves to keep off those finger prints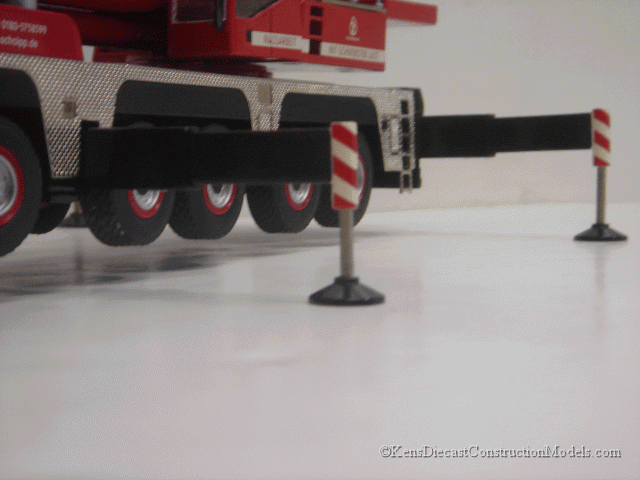 Four 2 stage screw down outriggers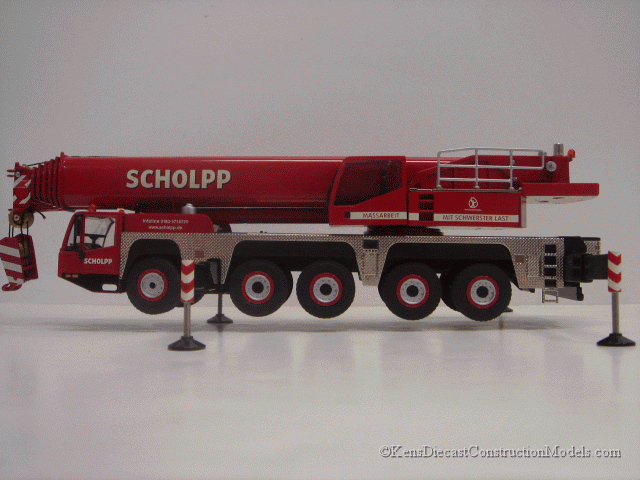 The outriggers are capable of raising the crane off the ground
The crane itself is actually quite heavy with its built on counter
weight and then when you add on its two additional counter weights
this baby's ready for some serious heavy lifting
Just like teh real thing the crane can place the counter weights
up front and then spin around and lock them into place
The counter weights all attached and in place
...And now the beast is ready for action!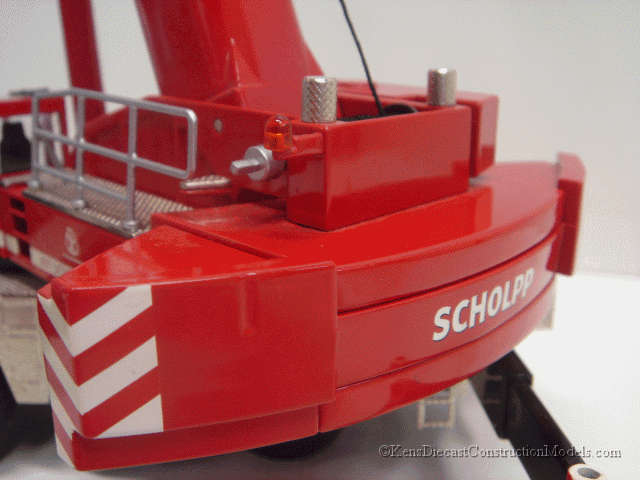 Counter weights are screwed on with the two bolts in the center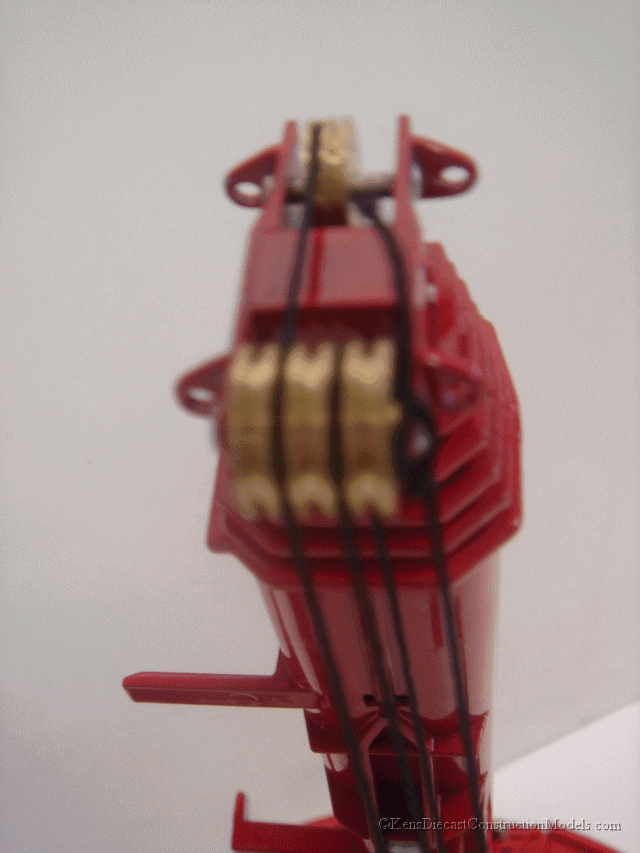 Unlike most model cranes the scheives are actually made of brass!
...and not plastic!
...Same with the hook scheives, all brass
Diamond plating covers most of the cranes upper deck along with railings
and one heck of a crisp paint job with all the SCHOLPP markings
The operators cab tilts up for eaiser visability (compare this pic with the
pic above)
The operators cab has a full complete dash with side seat controls / levers
Six stage main boom mast reaches high into the sky
View looking down from above
With the main boom fully extended upright the crane reaches a
height of just over 54 inches, thats over 4 feet!
If the crane still isn't high enough for what ever reason the AC200
is also equipped with a jib to give it an additional amount of height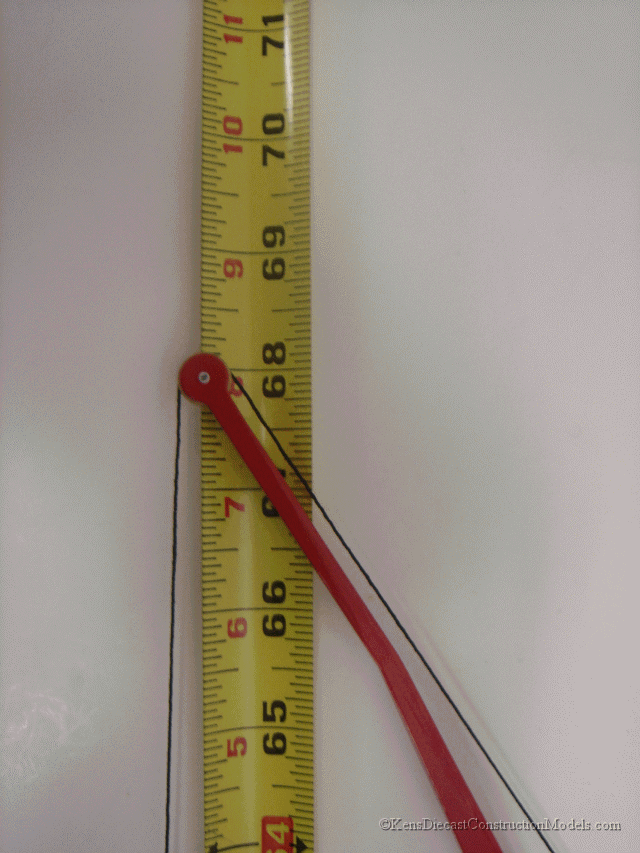 With the boom fully extended upright and the jib attached the crane can
reach over an amazing 68 inches!!! Or should I say 5 feet 8 inches!
Here's a close-up of the provided angle jib and locking pins
Here's a close-up of the cables pully reel
A special tool is provided that slips onto the pully for easy turning
This crane is capable of some serious lifting, here is just a
small demo of what it can do as it lifts that CAT D10T with eaze
Although smaller in size to the AC500-1 the AC200
is quite comprible as the photo here shows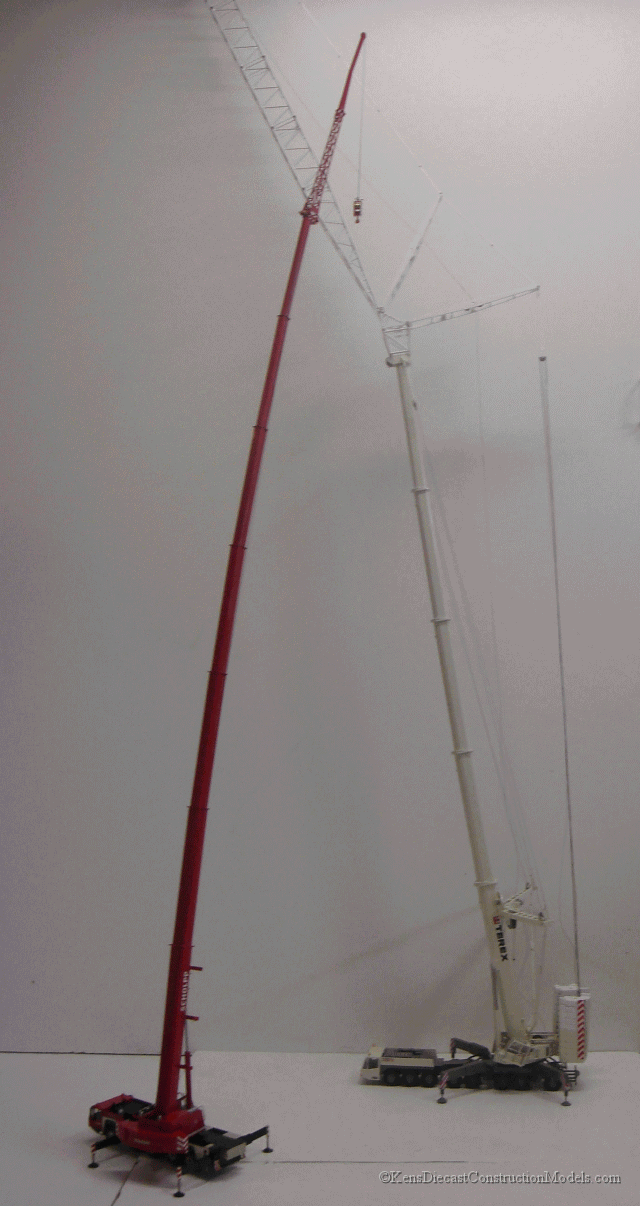 Here's a second AC200 / AC500-1 comparison shot
The AC200 is an awesome model and I highly highly recommened it to anyone
who's interested in cranes. The details on this crane are unbelivable and I personally
don't think the photos due enough justice of the fantastic quality of this model,
especially for the price, it costs less that half of what the AC500-1 sells for...