CAT 385B L excavator w/ quick coupler
Base Model(s): NORSCOT 365B L / JOAL JCB JS 330L
Scale: 1:50
Here is my finally finished custom built CATERPILLAR 385B L excavator!
You can get a feel of the excavators massive size by comparing it to
the man beside the beast
I used to main base models to create this piece; the Norscot 365B L
excavator and the JOAL JCB JS330L excavator along with a few other parts
The excavators upper structure is a totally chopped up 365B L body that I
cut-up and re-shaped as well as added over an inch of length to.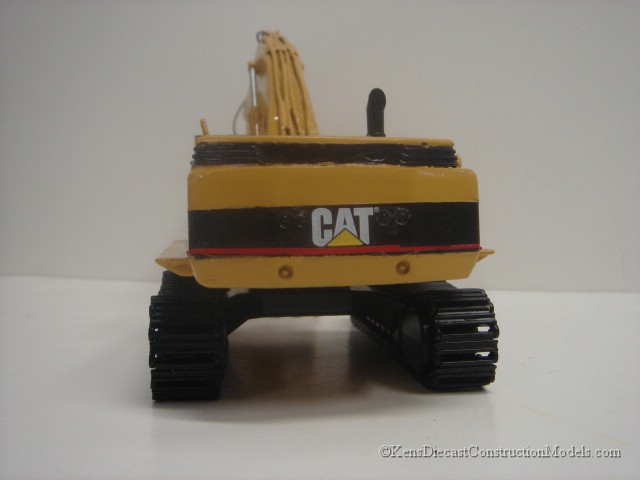 Rear shot to show off the huge counter weight
The boom and dipper are originally from a JCB JS 330L excavator, which
worked perfect for the correct scale of this model. All the side top
railings that line the machine are made from brass I bent into place
Metal linked tracks were a must for this model to make it top quality=)
Pic to show all the hydraulic lining details
Overhead shot to show custom railings, the hydraulic pump, and rear raised
engine section (originally from a CAT 5080 front shovel)
I like excavators much more when they are equipped with a quick coupler
on the end, so like most of my other custom models I had to incorporate
a quick coupler onto this model as well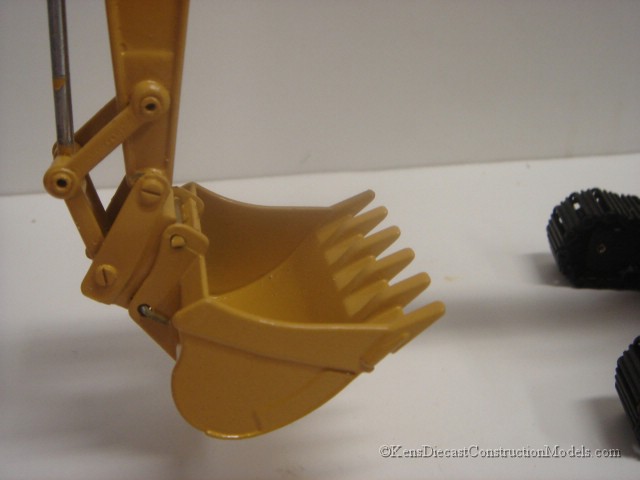 The attachments just slide into place and a pin is inserted into the
rear holes to hold the attachment tight into place
I grinded down the original JCB JS 330L bucket and made it suitable
to work as an attachment on the quick coupler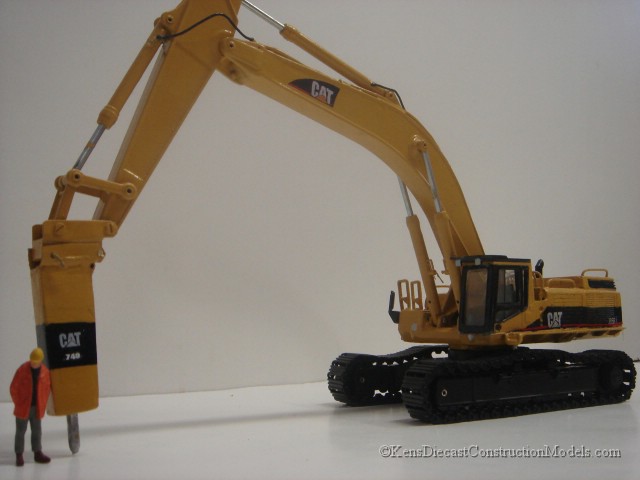 I also scratch built a CAT hydraulic hammer attachment to work on this baby
Close up of the hammer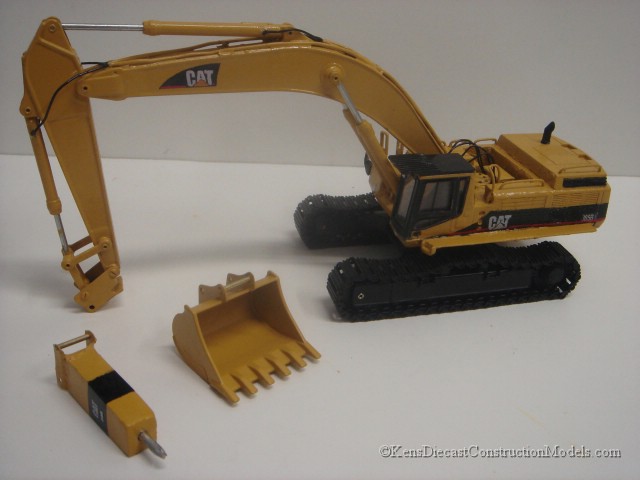 These are the two attachments made for the 385B L but all the other
attachments featured in my other custom excavator model sections
fit the quick coupler as well...
...like various buckets...
...or even compaction wheels
Here's a pic to show the 385's maxiumum raised height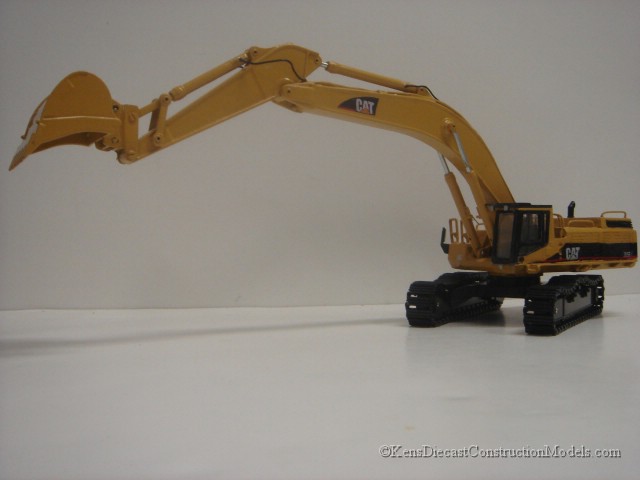 Pic to show its long reach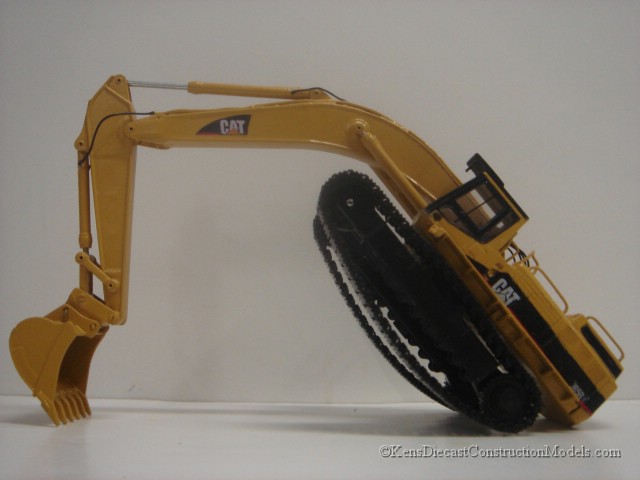 Photo to show just how incredibly deep this thing can really dig
375 / 385B L comparison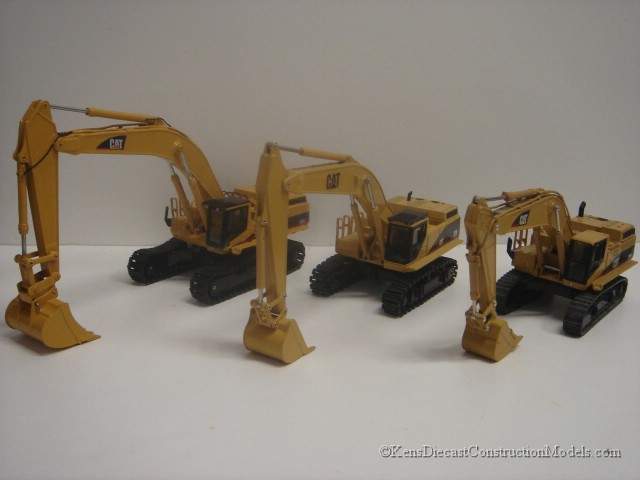 385B L, 375, 365B L size comparison shot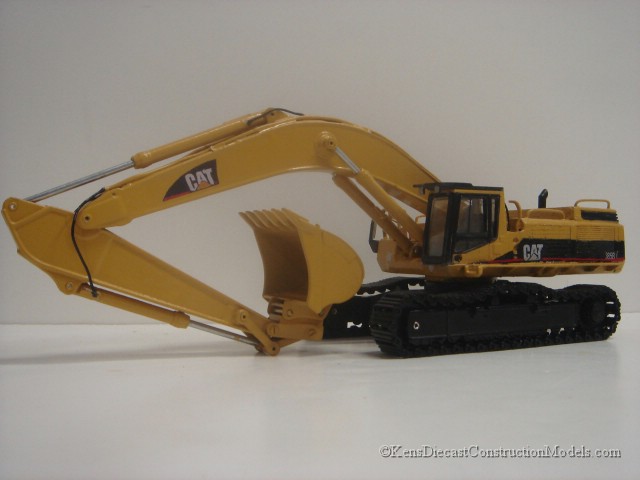 Wow talk about a long time to complete a model... I spent about 3 months
building this excavator, but I must say I am quite happy with the end result=)
Even though it took forever to create I think all the hard work was well worth
it, now I can only hope you think so too!
85 metric tons of hard core heavy iron
Here's a picture of the CAT 385B L in action at the job site loading CAT 725
ADT's with dirt for a massive storm drain trench