HERE IS A STEP-BY-STEP PROCESS ON HOW
TO CONVERT A CAT 345 B MATERIAL HANDLER
INTO A CAT 345B L EXCAVATOR...
-------------------------------------------------------------
Before getting started here's what's needed;
Models: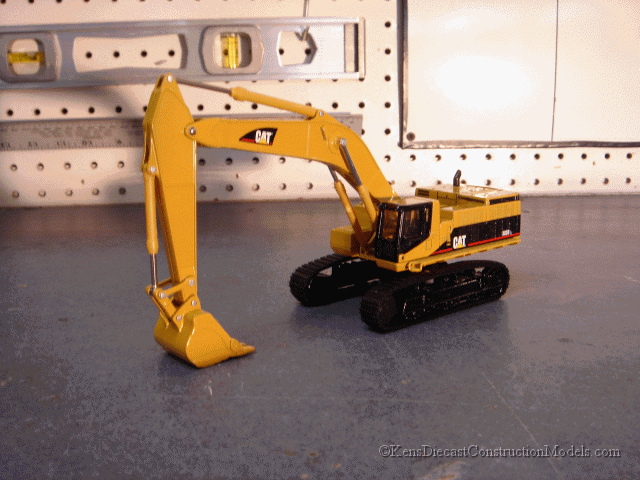 Norscot 1/50 scale CAT 345B MH Norscot 1/64 scale CAT 385B L
Tools: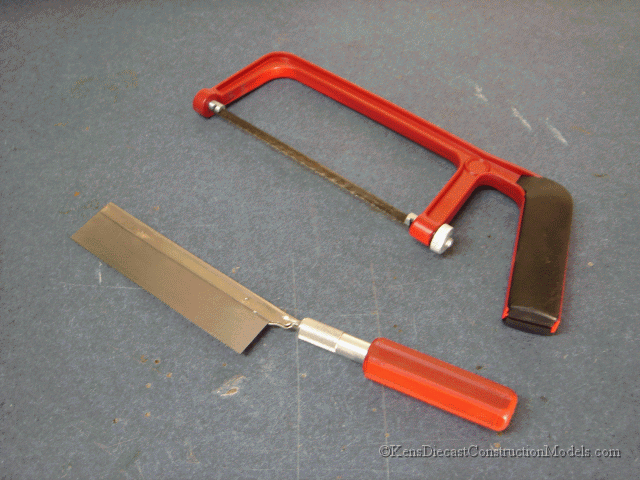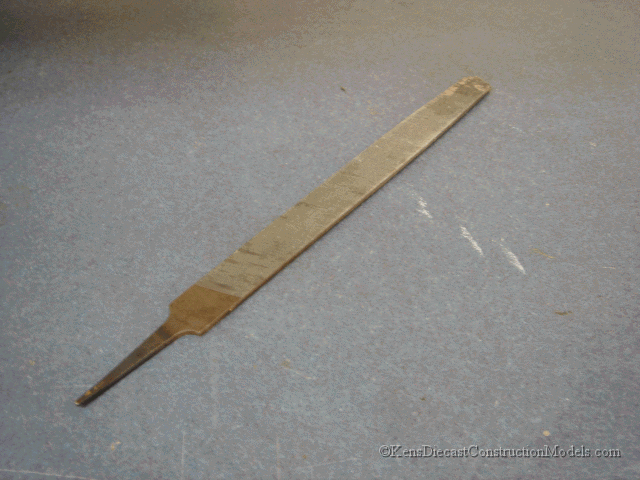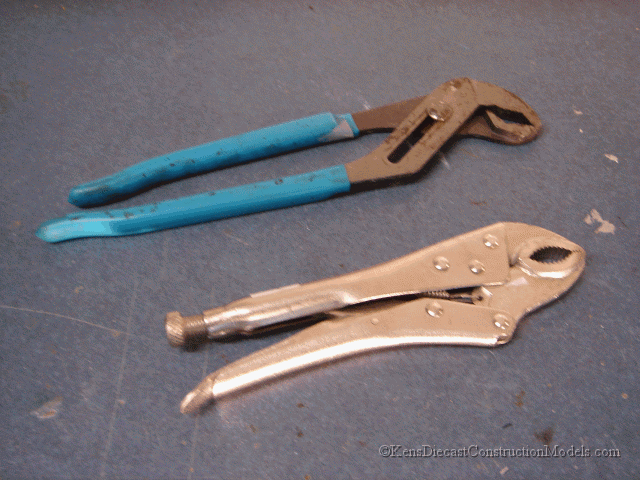 Razor/Metal saw / Metal File / Some kind of strong glue or epoxy / Small phillips screw driver / Plyers/vice scrips
Once you have all the above your ready to start...
STEP 1
Completely disassemble the Norscot CAT 345B MH
STEP 2
Using the metal saw/razor saw carefully cut the cab riser off from
the cab itself (place saw into the already indented line, this
will keep your saw straight and give an exact cut)
=
STEP 3
Next cut the actual 345B MH body where the cab riser used
to be mounted, when making this cut (unlike the last cut) cut
just in front of the indented line (don't use the line to guide
your saw cut about 3/32 or so in front of that line)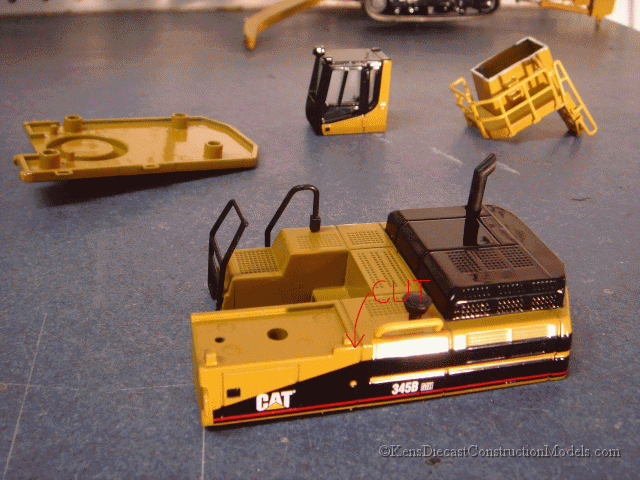 =
STEP 4
Now using your metal file, or even your saw if your careful,
file/cut down the old cab riser mount and shorten the raised
boom pin mount so that the cab will sit level on the frame
=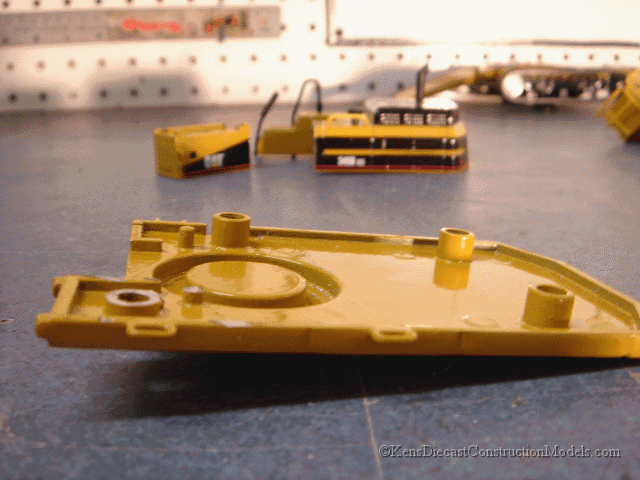 STEP 5
If you haven't already now completely disassemble your
Norscot CAT 385B L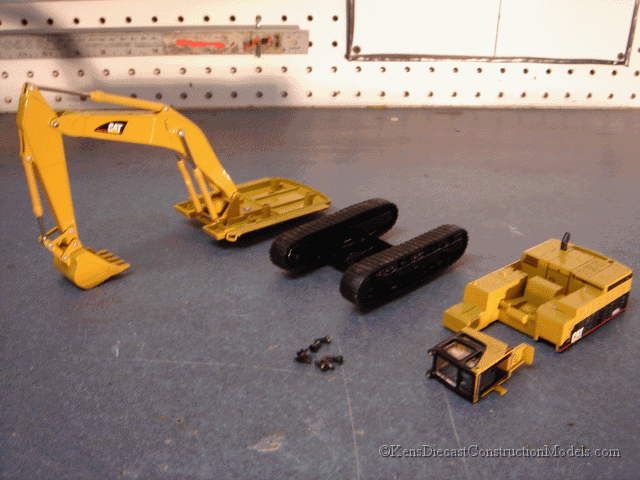 STEP 6
The next step is to remove the 385B L boom pins to seperate the
boom and hydraulics from the 385B L mount, you may need to
use a hammer and small nail on one end to push the pins out a little
if they aren't already, then use your plyers/vice scrips to pull out the
pins. Repeat this same process with the 345B MH to remove the
boom and hydraulics from the mount (depending on the 345B MH
some may have flanged rivits holding the boom on if so use a 3/32
drill bit to drill off just the tip of the flanged part of the rivit but
over due it because you will need to re-insert these later)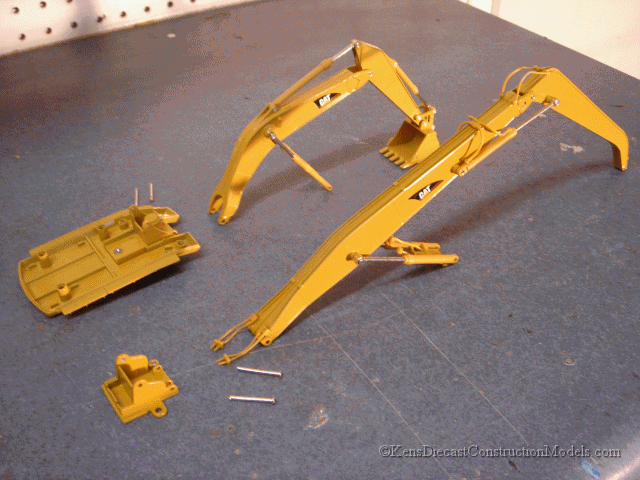 STEP 7
Now mount the 385B L boom and hydraulics onto the 345B MH
boom mount with the 345B MH pins/rivits
STEP 8
Almost there... You now want to put the 345B MH boom
mount back onto the frame and re-attach the carbody to the frame.
Then attach the tracks from the 385B L to the 345B L carbody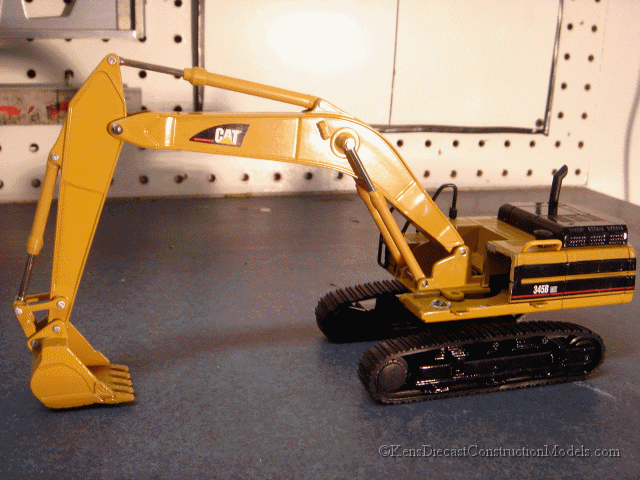 STEP 9
Next take your glue/eposy and apply it to the underside of the
can and attach it to the excavators carbody frame
STEP 10
And finally the last step to make it complete and officially a
CAT 345B L excavator take some black paint/marker and
go over the old "MH" decal and then with some white paint
create an "L" so it will now say "CAT 345B L"
Congratulations your done! Now enjoy your new custom excavator!