"MAMMOET" livery Peterbilt 379 w/ Rogers lowboy
Manufacturer: TWH
Scale: 1:50
Here is the ultimate truck, the MAMMOET Peterbilt 379 with
Rogers lowboy. You can get an idea of this beauty's
size as it's driver climbs in
Although the photo makes it very difficult to see the interior is
just as detailed as the exterior with everything in place
from a turn signal switch bar on the side of the steering
wheel down to center stick shift
Of course the doors open
The front wheels turn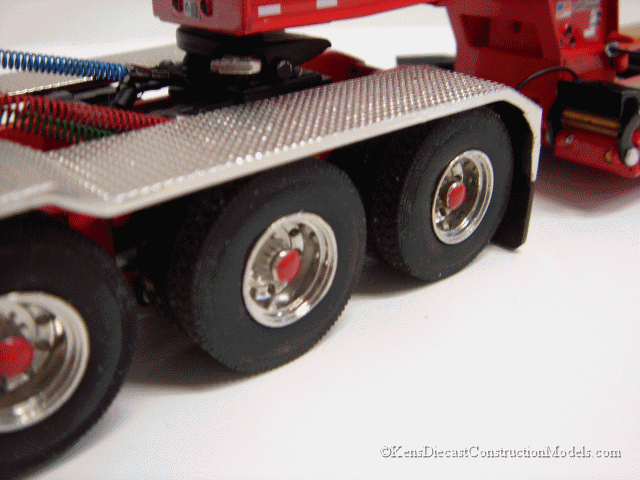 All the wheels are soft real rubber
Here's a front view of the tractor showing off its realistic
headlights and see through front grill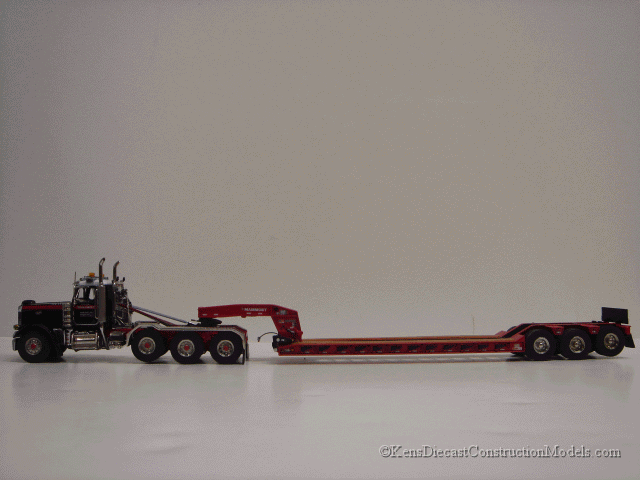 Side view with rogers lowboy attached
The rear view
And the right side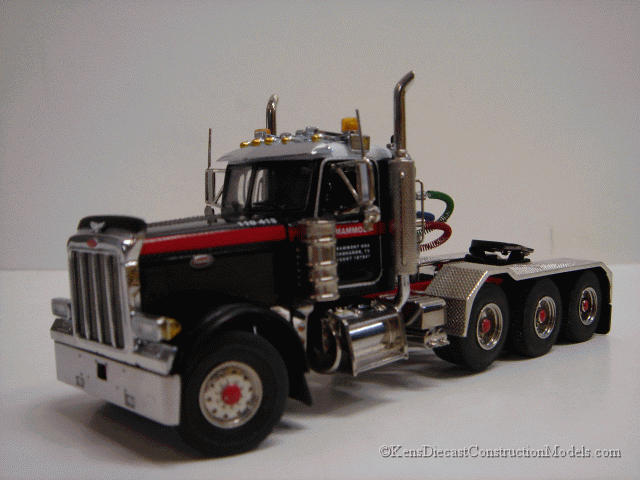 Since this is a MAMMOET model its only being made in a small
limited edition product run
Tractor side view with "MAMMOET" paint and logoing
Front hood opens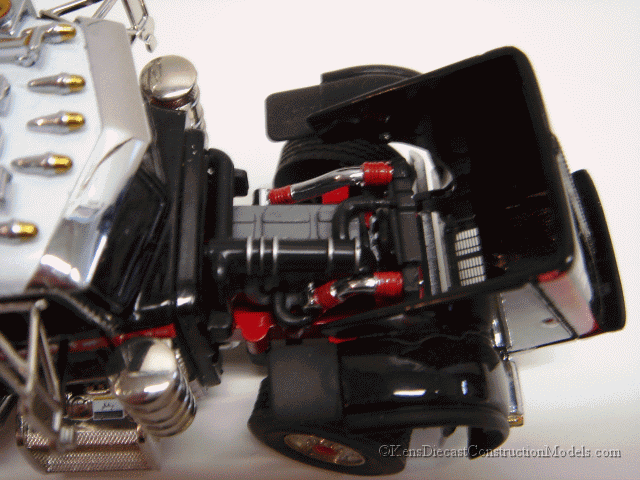 Even the detail on the massive deisel engine is at its
max, it looks more realistic than the real thing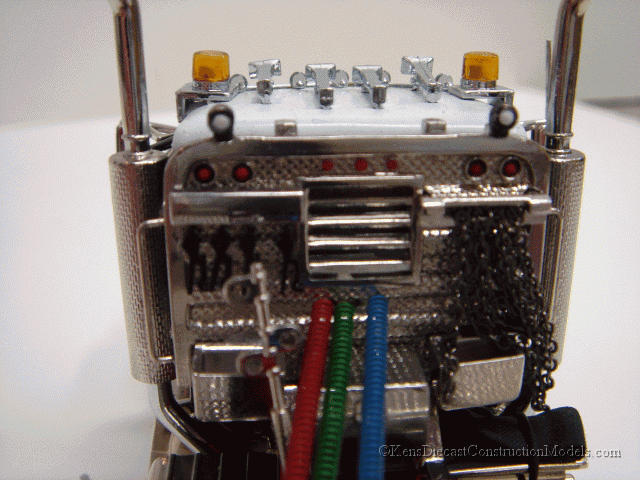 Headach rack with chains and ratchet lock downs... The roof has
two waring beacons and four air horns, there are 4 round and 4
square air horns provided so you get to choose which to use
There is even a dummy glad hand pole for the air lines
to attach to when the lowboy's off
Oh and yes there is even a removeable fold-out tarp!
The fifth wheel works off a clicking spring loaded lock
and can be slide into different positions
Here's another view of the fifth wheel in a different position.
There is a locking lever to lock the trailers kingpin into place, you
just pull forward to open and then when released it locks kingpin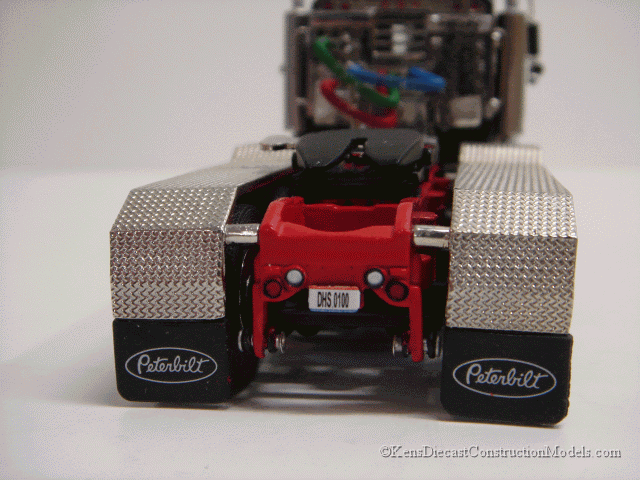 The rear of the tractor has real looking brake and reverse lights,
a "DHS" license plate and Peterbilt mud flaps
Air and electrical lines attach to the lowboy
Lowboy lifts and lowers by a dual hydraulic system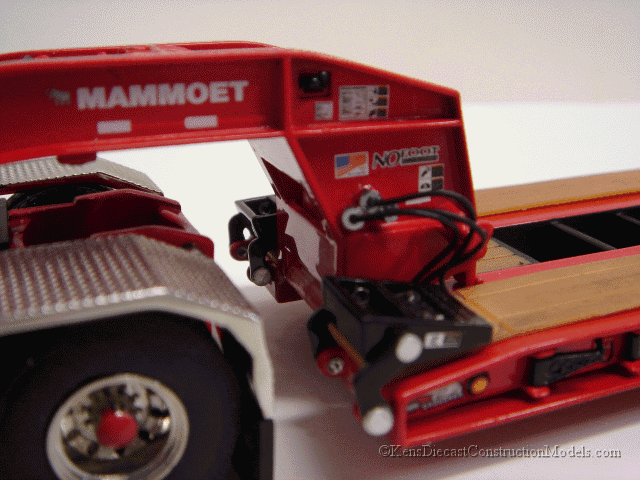 The lowboy is fully decalled with "MAMMOET" decals, "DANGER"
decals, and even an american flag stcker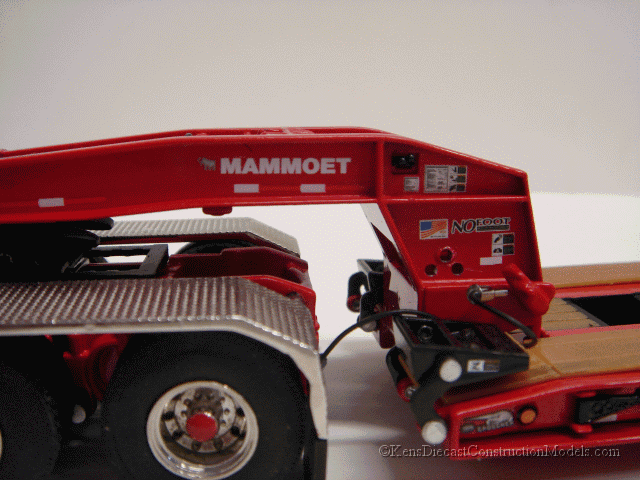 The lowboy air and electrical lines detach from the gooseneck
for lowering and seperating the gooseneck from deck
Gooseneck detaches and ramps fold down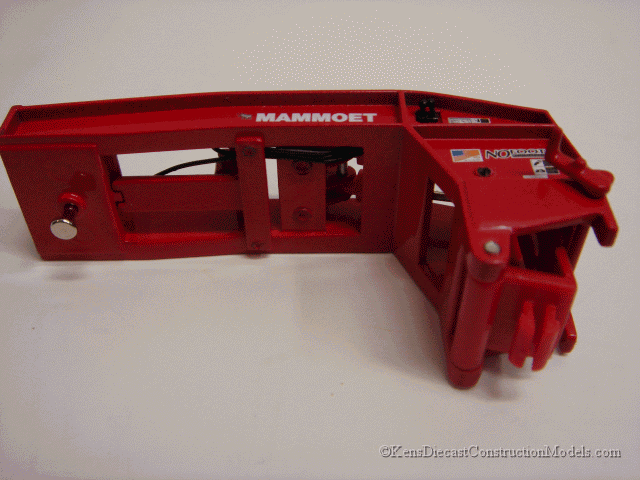 Gooseneck works similar to the Tonkin models with a clip lock
The lowboy is equipped with side hangers and tie down hang loops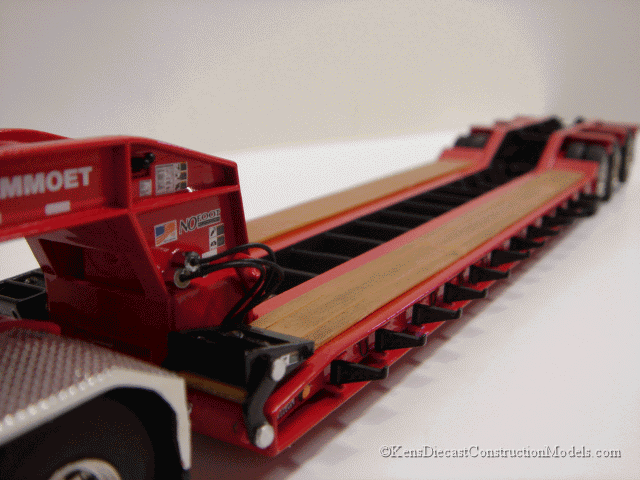 Side hangers can be pulled out for larger loads
Extra wood planks are even provided for the side hangers
Just like the real thing the third axle on the lowboy rides
just above the ground while the deck is empty
When loaded the third axle rides on the ground for more
weight distribution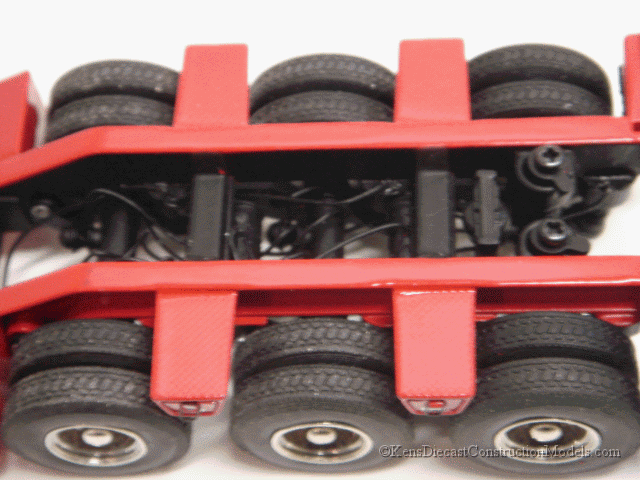 Complete air ride suspension system with all the
air lines and brake chambers in place
Just like the tractor the lowboy also has Rogers mud-flaps,
realistic tail lights, and a "DHS" license plate
The two detached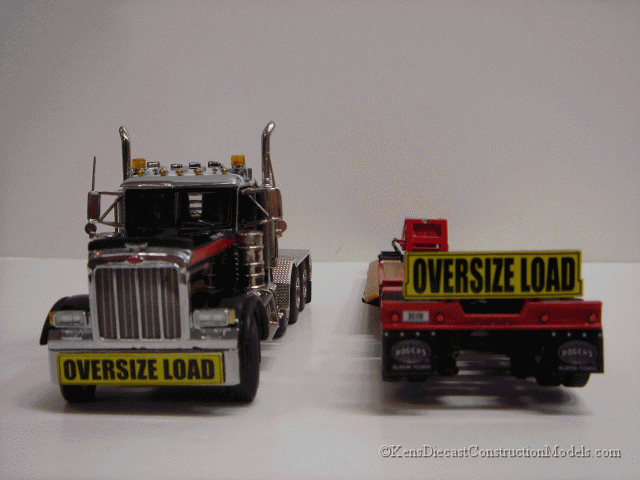 For oversize loads the proper signs are provided and
clip onto both the tractor and lowboy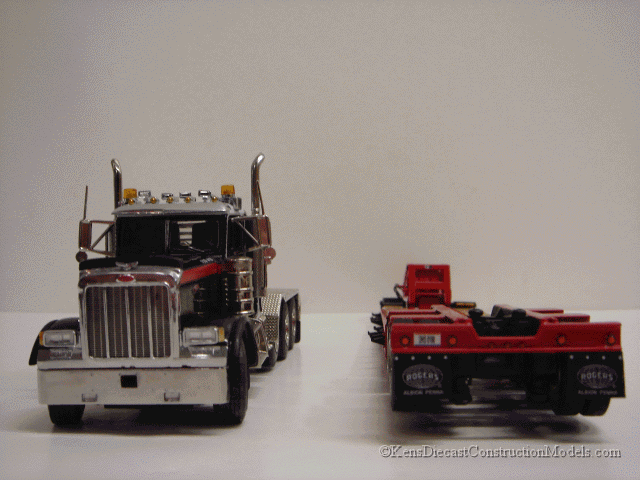 Pic without Oversize Load signs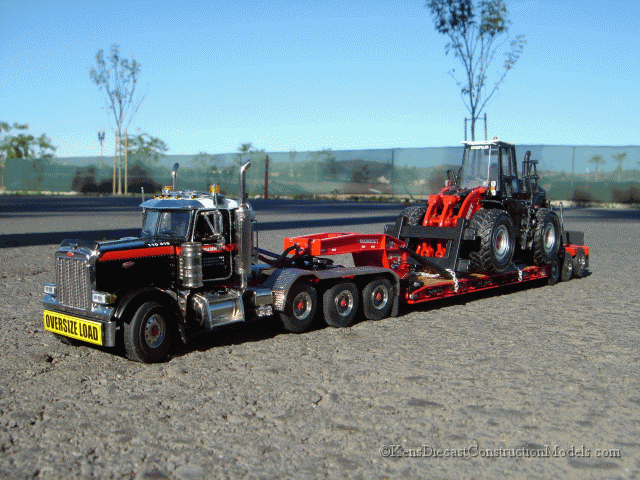 I can sum up this model in two words, "GET ONE"! You will
Absolutly love this beauty!!
Here's a pic of the truck cruising down the road with one
of the MAMMOET heavy lifting CAT 980G's
Click here if you wanna see a few more pics