"RLF heavy haulage & rigging" mack Granite w/ lowboy
Manufacturer: First Gear
Scale: 1:50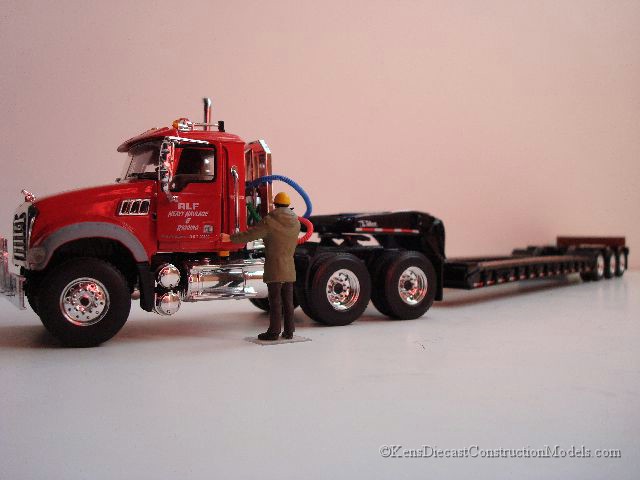 Here is the INSANE new MACK Granite lowboy released by First Gear!
You can get an idea of this trucks size by using that man as a scaler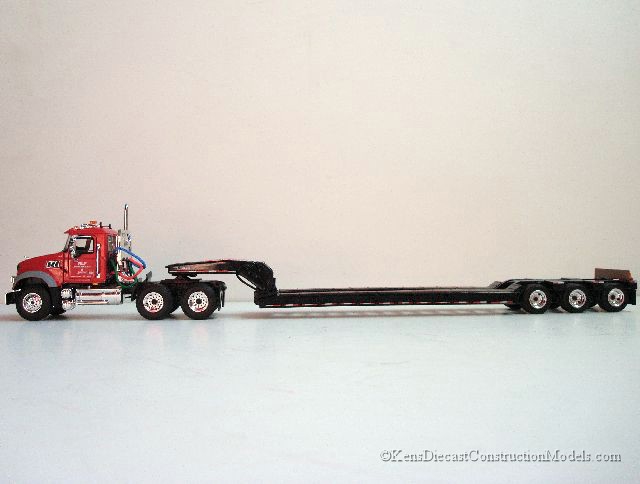 The details on this truck are amazing... here's a side view of the entire truck
Front view- realistic headlights & even the Mack dog hood ornament
Rubber wheels, front axle steers
Rear features "WIDE LOAD" sign w/ beacons, dot reflective striping,
yellow turn signals, and even the Talbert logo on the mud-flaps
Lowboy is detachable from tractor
Highly detailed Mack Granite tractor in "RLF heavy haulage & rigging" livery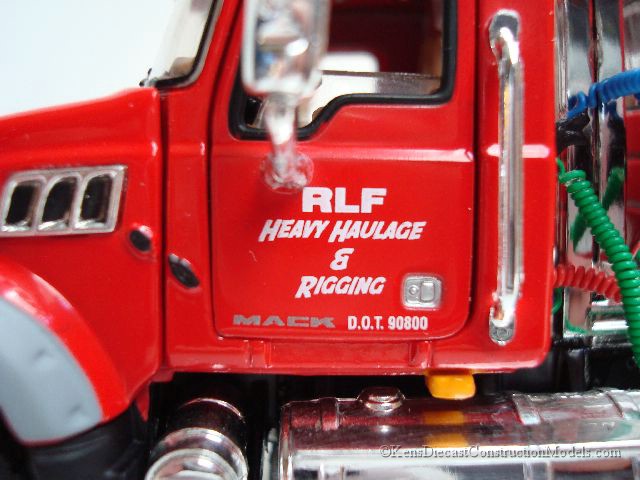 Decaled nicely with the "RLF" logoing as well as dot numbers
Doors open to show off life-like cab interior
The hood pulls forward to expose detailed engine consisting of evrything
from the air intake down to headers and massive radiator fan up front
Behind the cab is a large headach rack along w/ the elec. cord & air hoses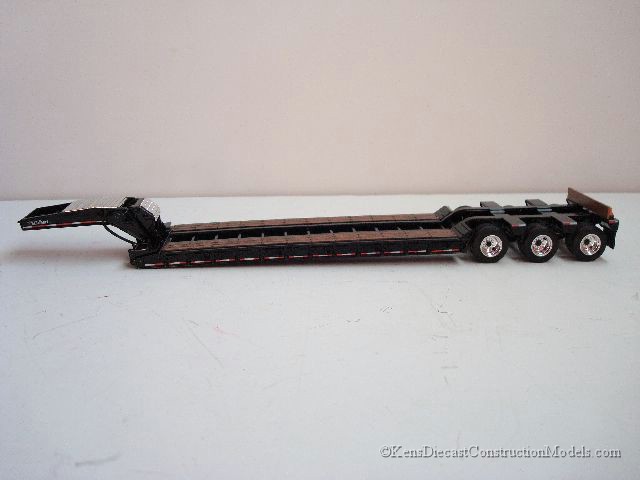 The lowboy is a 3 axle Talbert trailer
Features afully functional gooseneck w/ hydraulic lines & everything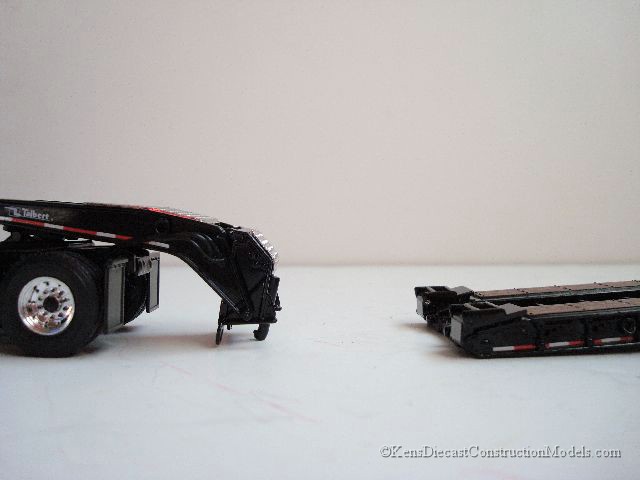 Gooseneck detached from deck
Gooseneck is detached by pushing in on spring loaded locking pin located
in the center
Deck has working folding ramps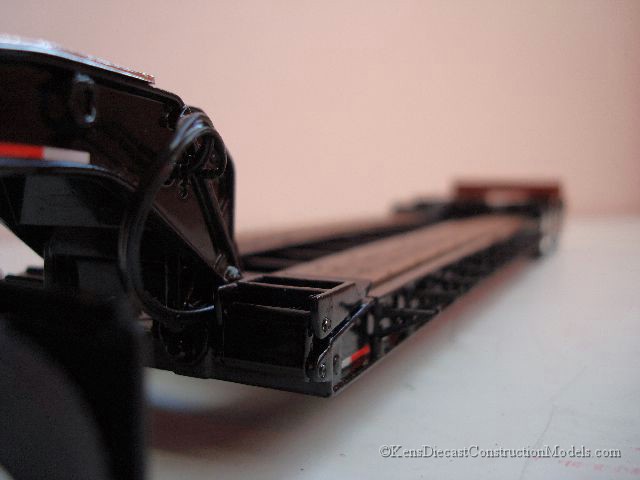 Close-up of hydraulic lines and deck attached
The Talbert also features outriggers along the side for larger loads
( in normal mode above )
Overhead shot with outriggers swung out
Plastic wood planks are provided to place on outriggers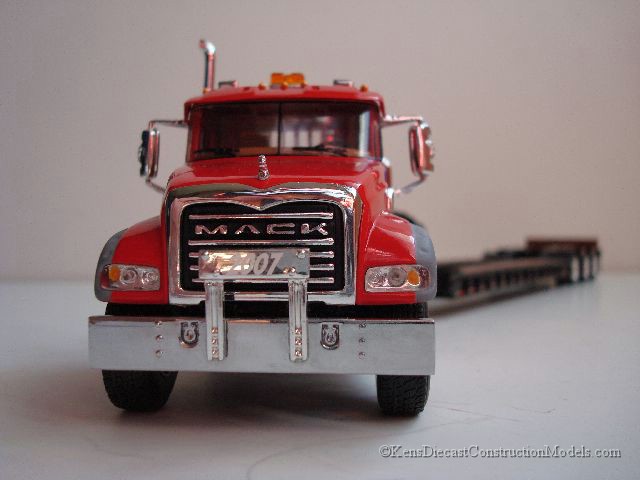 Front shot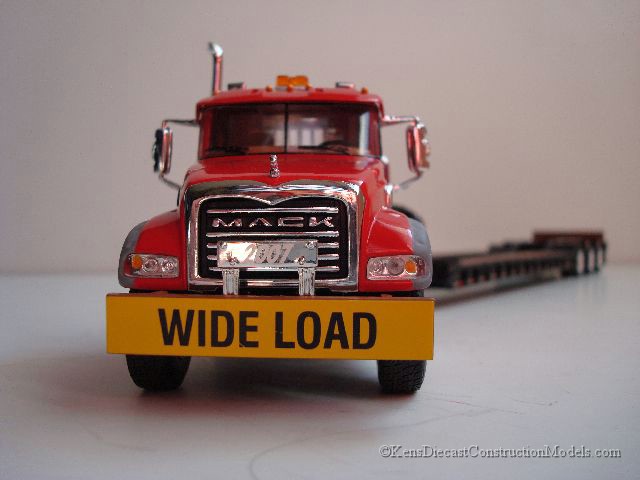 Front shot w/ provided clip-on "WIDE LOAD" sign
Comparison shot to the Norscot W900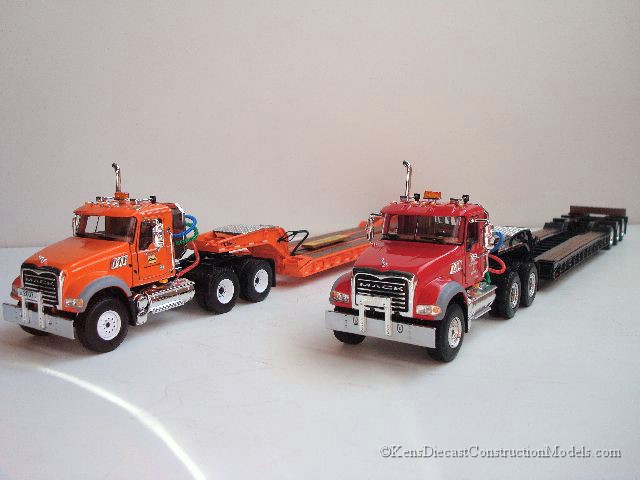 This Mack granit lowboy from First Gear is the first highly detailed affortable
lowboy in 1/50 scale at the moment and is only being made in limited
numbers... The model is AWESOME and comes in 4 different versions
at the moment; RLF,IOWA,HWY DEPT., and Komatsu so get your hands
on one if you can these are a must have for all collectors!!
Here's a shot of the RLF Mack rig hauling a CAT D6T dozer
Another pic of the RLF hauler loaded up
Here's a pic of the RLF Mack cruising down the highway with a CAT
963D track loader